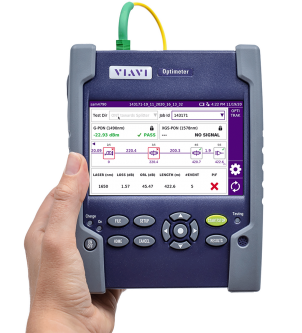 Test Rapidly. Share Results Instantly
Optimeter takes less than one minute to certify fiber links and reduce the number of borderline installs and early install failure rates.
Light power level(s) and fiber link map are captured and saved automatically on test completion in a single test report organized by job number.
With the VIAVI Mobile Tech App, test reports can be wirelessly transferred to a smartphone or tablet and further enhanced with geolocation data, then automatically uploaded direct to VIAVI StrataSync Test Process Automation suite for KPI dashboarding and reporting.
Last Mile FTTx Test and Certification