OLP-88 TruePON tester is an innovative tool using GPON data analysis technology.
Simple and user-friendly color touchscreen
Compact and lightweight instrument (<1kg)
Data storage of up to 10.000 test results
USB, Ethernet and WiFi interfaces 
12 hours of battery life
Patchcord microscope version and P5000i digital inspection probe compatibility
It is the ideal test unit for field technicians dealing with GPON network service activation and for support teams in charge of resolving service complaints and identifying the sources of issues.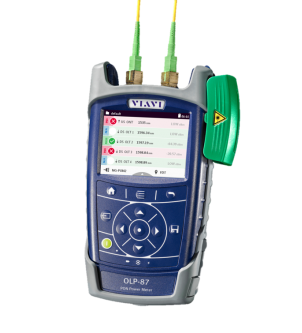 The OLP-87 PON Power Meter enables simultaneous power measurement of all upstream & downstream wavelengths on live B/E/G-PON networks and is also compatible with next generation PON networks (XG-PON & 10G EPON).