Contaminated connectors are the #1 cause for troubleshooting in fiber optic networks. Don't forget to Inspect Before You Connect!
While standards bodies have established acceptance criteria for the quality and cleanliness of fiber connector end faces, technicians still face challenges with implementing these practices. Without the right fiber testing tools, including fiber optic inspection solutions such as fiber inspection probes and fiber optic inspection scopes, maintaining these standards or specifications is difficult and time consuming.
A single particle mated into the core of a fiber can cause significant back reflection, insertion loss and even equipment damage. Learn more about our "INSPECT BEFORE YOU CONNECT" process to ensure fiber end faces are clean prior to mating connectors in our fiber certification white paper.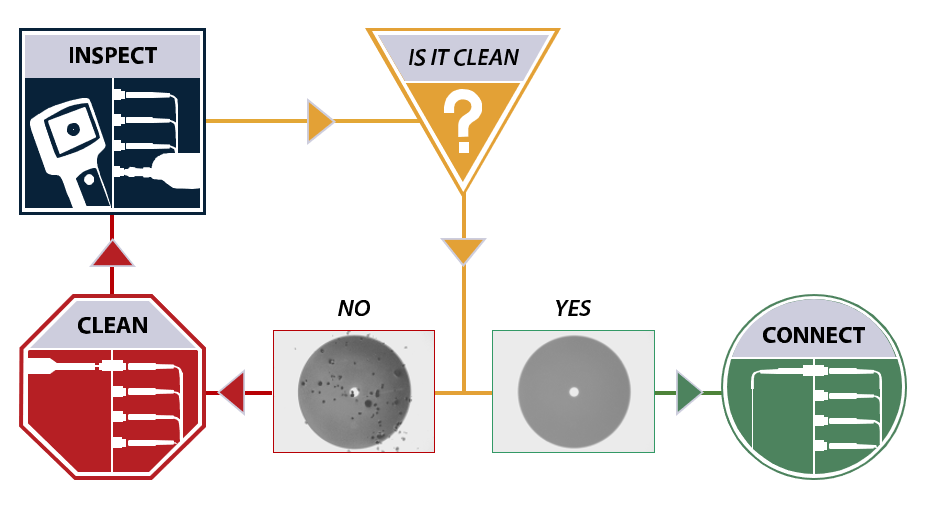 Contaminated or dirty fiber is the number-one cause of fiber optic network degradation, including permanent equipment damage. As a result, proactive fiber optic inspection programs support the deployment of large-scale fiber optic network and fiber optic cabling initiatives and ensure reliable, high-quality delivery of high-speed, high-capacity, broadband services. VIAVI Solutions' fiber optic inspection product line, including fiber inspection probes and fiber optic inspection scopes (or simply known as fiber microscopes), offers easy-to-use fiber optic inspection tools that, among other applications, allow field technicians, network managers, IT professionals and contractors to determine the cleanliness of fiber connections when they install the network. VIAVI fiber optic inspection and cleaning solutions also offer the industry's leading fiber inspection microscopes, fiber inspection probes, and automated fiber analysis software necessary for these programs.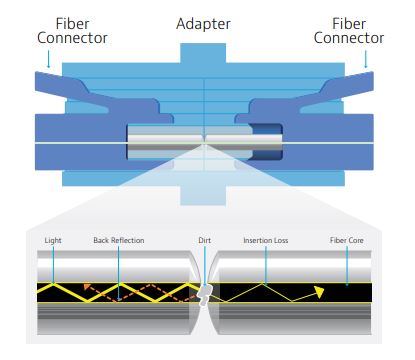 Fiber inspection and cleaning are critical components in a comprehensive fiber deployment and operation strategy. VIAVI fiber optic inspection solutions provide a full suite of optical inspection and cleaning solutions that address the needs of fiber component and system manufacturers, service providers, enterprises, and military and aerospace networks.
Many industry associations maintain guidance for fiber optic inspection and fiber optic cleaning practices and procedures, including the Fiber Optic Association and Bicsi and the Fiber Optic Association, Inc. Aiding the industry effort to guarantee a common level of performance from the many fiber optic connectors found in today's fiber-rich, high-connectivity networks, the International Electrotechnical Commission (IEC) created IEC 61300-3-35. This standard specifies pass/fail requirements for connector end-face quality before connection and supports optimized product and network performance throughout the fiber optic life cycle when compliant with the standard at each stage. Because of the variables associated with manual fiber optic inspection, compliance requires automated end face inspection using analysis software programmed to specified pass/fail criteria for connector quality. Automation of the systematic proactive inspection process using programmed analysis software eliminates the variables associated with manual fiber inspection and provides a documented record of the quality of the connector end face at the point of installation, all in a 100-percent repeatable and reliable process. Combined, these benefits make automated end face fiber optic inspection the most effective method available to assure and certify compliance to the IEC Standard throughout the fiber optic product life cycle and achieve the promise of fiber optic networks.
It is widely known in the fiber optic industry that scratches, defects, and dirt on fiber optic connector end faces negatively impact network performance. If dirty and damaged end faces are not dealt with systematically, these defects can degrade network performance and eventually take down an entire link. In the effort to guarantee a common level of performance from the connector, the IEC developed Standard 61300-3-35 which specifies pass/fail requirements for end face quality fiber inspection before connection.