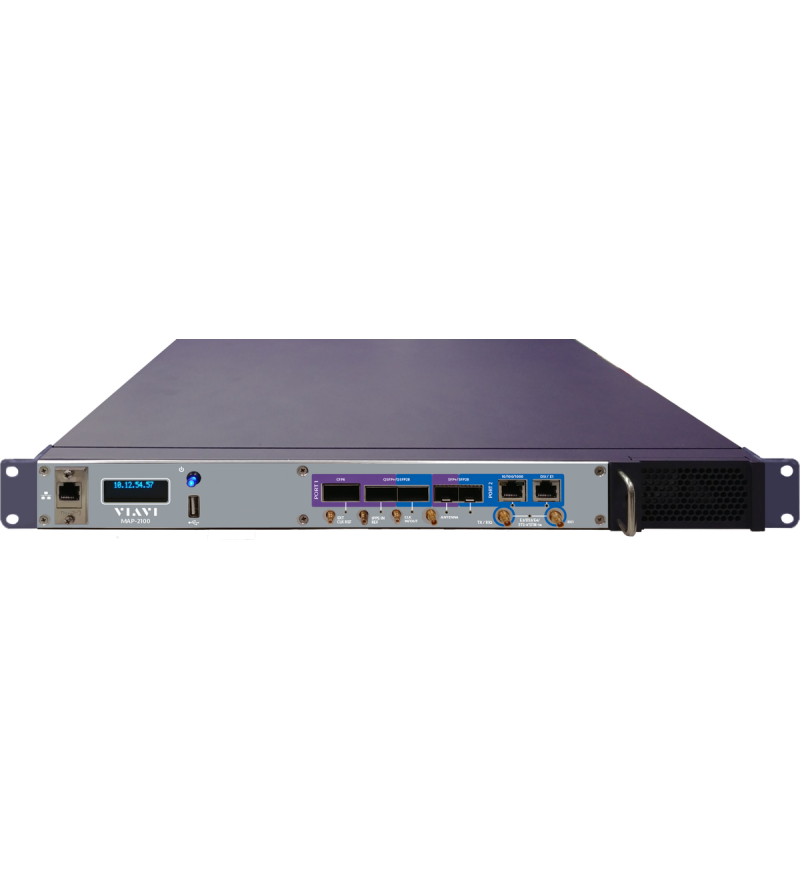  
MAP-2100
Rack-mounted test unit for remote BER tests
The one tool data center operators need to remotely test transmission quality of the network connecting its data centers, central offices, or head ends.
Securing the integrity of data stored in data centers is so important that most data center operators back up data to other data centers via high-performance network links.
To maintain the performance of those connections and to verify SLAs, a data center must frequently perform bit-error-rate (BER) tests on Ethernet line rates up to 100G and beyond, as well as OTN, CWDM, or DWDM circuits.
The problem is that many data centers have very few, if any, technicians to run tests ensuring the quality of connections.
The MAP 2100 was designed to enable data center operators and network service providers to securely run high-performance bit error rate tests to unmanned locations.
Highlights
Optimized for remote, un-manned testing with a rack-mounted design and remote management functionality
Ethernet testing, 1G through 100G line rates (10G, 25G, 40G, 100G)
Complete support of protocols including Ethernet, OTN, SONET/SDH, PDH, Fiber Channel up to 32G, CPRI
Applications
Remotely test the transmission quality of the network links connecting data centers or central offices/head-ends
Converged Ethernet/IP network testing and troubleshooting at 10 Mbps to 100G interfaces for data centers and core / metro networks
Installation and maintenance of OTN and legacy SONET/SDH and DSx/PDH networks
Data service turn-up, performance validation and monitoring for Submarine Cable Networks
Key Features
Rack mounted, 1U 19" wide, kits available for 21"
The industry's fastest RFC 2544 and Y.1564 SAMComplete™ Ethernet service activation test including nanosecond accurate latency measurements. Also supports RFC 6349 TrueSpeed
Ensures SFP+/SFP28, QSFP+/QSFP28, and CFP4 modules run error-free with the field optimized Optics Self-Test
Test OTN service activation with the OTN Check workflow automated script
Test synchronization and timing using built-in GNSS
Fiber Channel up to 32G
SONET SDH/PDH
Ethernet One-Way Delay with built-in GNSS