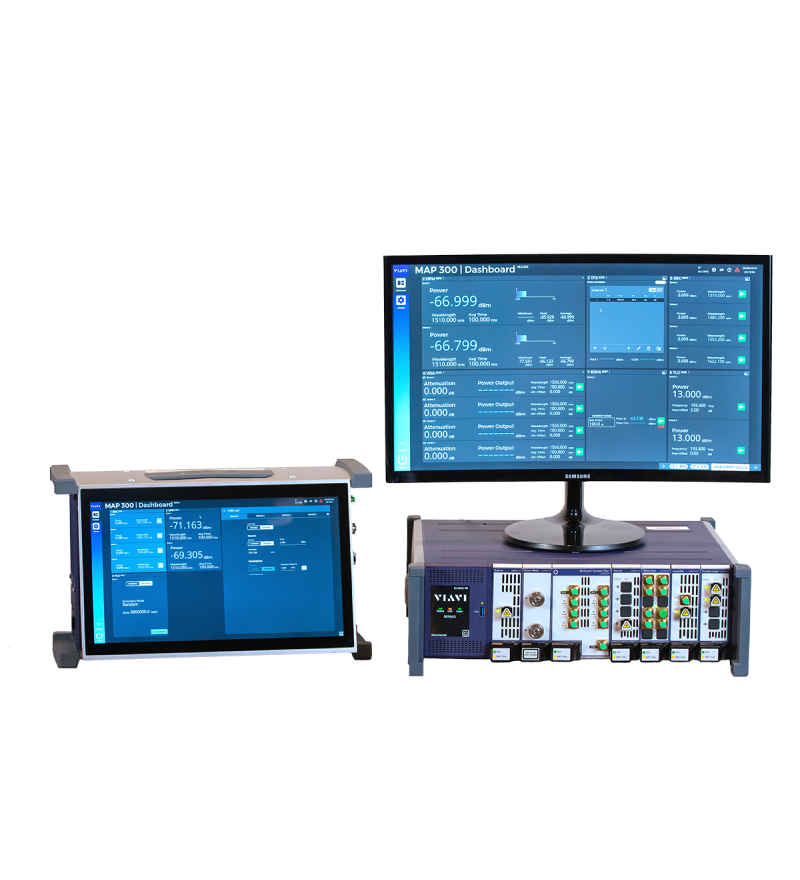  
MAP-300
From the original Multiple Application Platform (MAP) System released in 2001 to the new third generation MAP-300 Series, the MAP system is the heart of the VIAVI optical test solutions for labs and manufacturing. With unmatched scalability, users can be assured that our solutions will meet their current and future needs
Available in rackmount, reverse-rackmount and benchtop mainframe configurations
Eight-slot (MAP-380) and three-slot (MAP-330) configurations
HTML-based graphical user interface (MAP-300 GUI)
Field-replaceable controller includes an integrated 3.5- inch LCD touchscreen for network and system status
Support for USB 3.0 port, 15.6 external monitor, and ethernet
Optional GPIB, Ethernet port, USB and additional USB and trigger modules
SCPI logical interface for automation programming, with remote programming supported via TCP/IP (LXI) over ethernet, GPIB and direct socket
Multi-user capability
Hot swappable modules
The new MAP-300 builds upon the proven strengths of the MAP System while adding innovation where it matters most for our customers. Backwards compatible support for the installed automation base, combined with several new features, including an HTML-based GUI for multi-user environments, gives customers the capabilities they need to achieve their goals. We can't wait to see what you will accomplish with the new MAP-300!
Highlights
On-board 3.5-inch touch screen provides quick access to connection and configuration settings.
Graphic User Interface features intuitive dashboard with configurable widgets that correspond to each populated cassette.
Multi-user access supported by web based interface.
The industry's largest selection of hot swappable modules for optical communications test and measurement in lab & manufacturing environments
Backward compatible with MAP2xx series cassettes and remote-control support
Applications
General purpose fiber-optic lab use
Manufacturing test automation
DWDM/WSS test
Connectivity IL/RL
Polarization scrambling and OSNR
MAP Series cassettes include amplifier and source cassettes classified as either Class 3B or Class 1M Laser products. While operating in a MAP Series mainframe, cassettes meet the requirements of the IEC 60825-1 standard and comply with 21 CFR 1040.10 and 1040.11, except for deviations pursuant to Laser Notice 50, dated June 24, 2007.