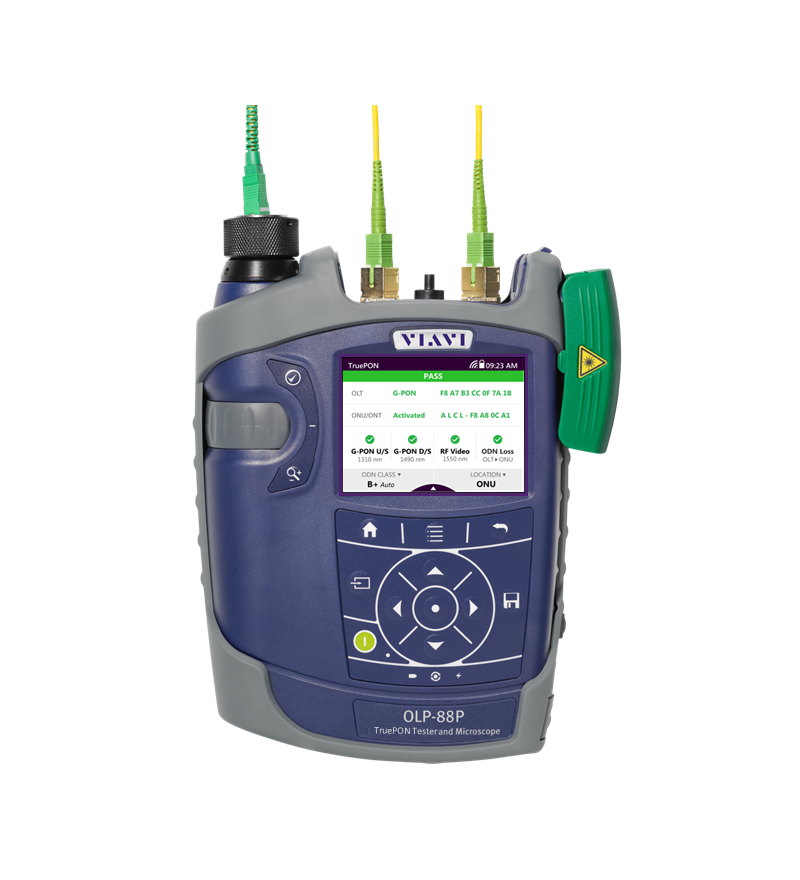  
True PON Tester Smartclass OLP-88
OLP-88 TruePON tester is an innovative tool using GPON data analysis technology.
Simple and user-friendly color touchscreen
Compact and lightweight instrument (<1kg)
Data storage of up to 10.000 test results
USB, Ethernet and WiFi interfaces 
12 hours of battery life
Patchcord microscope version and P5000i digital inspection probe compatibility
It is the ideal test unit for field technicians dealing with GPON network service activation and for support teams in charge of resolving service complaints and identifying the sources of issues.
The OLP-88 TruePON tester is the first instrument in the market with test capabilities like OLT and ONU identification, ONT activation process verification, automatic PON power levels certification, in-service insertion loss test and Alien/Rogue ONUs detection.
Together with accurate downstream and upstream power level measurements the OLP-88 ensures more reliable PON tests and faster trouble shooting of network issues.
The built-in G-PON data analysis simplifies and speeds up installation workflows by automatically providing all necessary information about the system to the service technician.
Applications
GPON ONT activation process verification
OLT and ONT identification (serial number extraction)
PON signals automatic power level measurement and certification
In-service fiber plant qualification
Rogue ONUs or alien devices identification
Automated pass/fail fiber end-faces analysis
Benefits
Ensures first time right GPON network acceptance 
Reduces workflow complexity during service activation 
Speeds-up on-site troubleshooting and facilitate service recovery
Drives user workflow and behavior to eliminate the issues caused by poor practices.