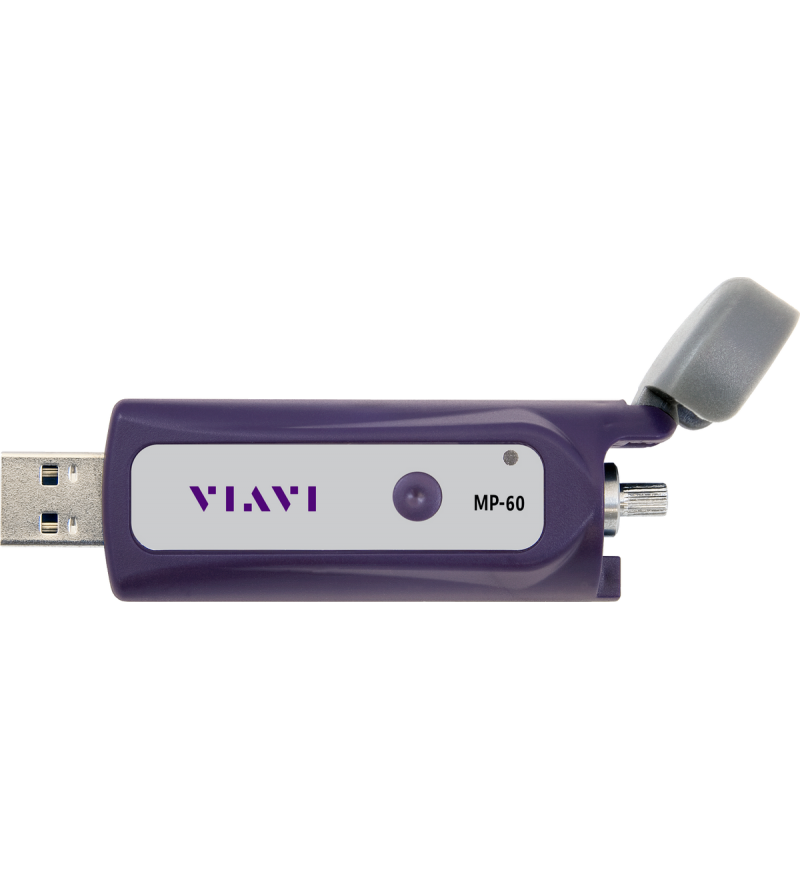  
USB optical powermeter MP-60 & MP-80
MP-60/-80 Miniature USB 2.0 Power Meters with FiberChek Pro Integration.
Lightweight, small form-factor design for ultimateportability
Generates measurements in dB, milliwatt, and dBm
Automated data logging capabilities
Automatic wavelength detection
Compatible with FiberChek Pro fiber inspection and analysis software; integrated reporting capabilities within FiberChek Pro
Simple, accurate, and instant push-button measurement results can be electronically archived, logged, and printed
Dedicated for all single-mode and multimode applications including LAN, TELECOM, CATV, and DWDM testing
The new MP-series Power Meter from Viavi is a miniature device that measures optical power via a USB 2.0 connection to a PC/laptop. This unique device makes digital processing of optical power measurements possible and integrates directly with the Viavi FiberChek™ Pro software, the industry-leading automated fiber inspection and analysis program. Its size, functionality, and ease-of-use makes it an extremely useful and practical tool when testing optical power levels. The simple, straightforward, and intuitive software interface offers a well-organized digital solution to both fiber inspection and test procedures.
Applications
Measure general power and loss as well as high power applications in long-haul, metro, access and local area networks with wavelengths ranging from 780 to 1625 nm
Use with a Viavi light source to detect modulation frequency and identify individual fibers
Integrate with other Viavi test devices (HST-3000, CellAdvisor, DSAM), PC (FiberChekPRO), or mobile device (FiberChekMOBILE) to run tests, export data, provide certification reports and manage acceptance criteria

Data sheet
Fiber network type

Singlemode & Multimode

Detector type

Germanium

Wavelength range

780 to 1650nm

Calibrated wavelength

850, 980, 1300, 1310, 1490, 1550, 1625nm

Upstream measurement ONT to OLT

No

Downstream measurement OLT to ONT

No

Power range

-65 to +10dBm (MP-60) or -50 to +26dBm (MP-80)

Optical interface / connectors

Universel Push Pull 2,5mm & 1,25mm

Maximum input power

+13dBm (MP-60) & +27dBm (MP-80)

Measurement units

dB, dBm & Watt

Display

No

Battery

No

Dimensions (L x H x P)

86 x 25 x 19mm

Weight

14g

Connectivity

USB 2.0